A few of our favorite moments from the past week...



Someone was a little uneasy about meeting Santa. Don't worry, we told him that you wanted a tape measure, just like Daddy!



We spent the entire morning baking together! We made peanut butter cut-outs, maple logs, Santa Mix, and homemade crackers.



I loved seeing the table covered with your hand prints. You printed snowflakes, trees, and reindeer designs to send to friends and family!



We had a bit of a rough start to the day, so we ended with a picnic in the car at a State Park near our house. We had such a relaxing evening watching the sun go down, and even were lucky enough to see over 20 deer feasting on their dinner as well.



Some of our favorite books that now adorn the entryway to create a tiny Christmas tree.



Someone is anxiously awaiting the beep of the oven. He just loved watching one of his homemade Christmas gifts being cooked in the oven.



A peaceful end to a long day ~ reading Christmas stories together under the tree.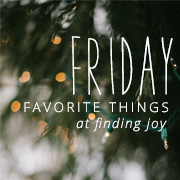 Thank you so much for stopping by! If you enjoyed this post, please join us on
Facebook.
You can even explore our boards on
Pinterest
if you are looking for more ways to foster family connections through play and inspiration.