Connecting as a family before, during, and after dinner is so important to us. Whether we are sharing laughter around the table or grabbing a healthy snack while on the road, we always try to slow down and enjoy each other's company. We attempt to get a bit creative when possible, as well as adding a few special touches when the mood strikes. However, our idea of a perfect meal is one that our family can share outside. Heading outdoors and taking in the sights of nature is a great way to make sure that we are free from distractions and it often allows for a relaxed meal. Whatever the time of day, you can always add something simple to enhance the ambiance of the meal. Here are some of the other ways that we love to connect as a family at the dinner table!
A:

After-School Snacks: A Healthy Dose of Comfort

(The Natural Nester @Bamboo Magazine) ~ Find out how to create an after-school ritual that will help the kids unwind after a long day (with you!).
B: Bars of any variety ~ Our favorites include cereal bars, bagel bars, and a

hot cocoa bar

during the winter. Simply place the main dish on the table, then add any toppings, spreads, or creative additives that can combined to make a yummy meal or treat. The simpler, the better!
B: Breakfast in Bed ~ Whip up a warm batch of pancakes, grab a tray, and have the whole family gather to share it on Mom and Dad's bed one morning!
C: Candles: Add a candle to the center of the table or grab a bunch to enjoy a

candlit dinner with the kids

!
D:

Dance Party Dinner Prep

~ It never fails that my little guy gets a bit needy while I'm trying to prepare dinner. Why not turn on the radio or put on a favorite CD to dance to while he helps you prep dinner?
D:

Dinner to Go

: Have a neighbor or relative that could use a little love? Get the family together to cook a special meal, pack it up, and head on over to their house with a surprise dinner to go!
E:

Eating on the Road: Meals and Snacks

(KidWorldCitizen) ~ Here you'll find healthy, creative ideas for breakfast, lunch, and dinner on the road!
F: Fresh from the Garden ~ There's nothing better than cooking up some fresh veggies that your family grew together!
G:

Grocery Store Activities

(In Lieu of Preschool) ~ Keep the kids entertained with 25 different ways to have fun at the grocery store!
G:

Gratitude at the Table

: (Creative Family Fun) ~ Creative ways to get everyone involved in giving thanks around the table.
H:

Hatch out a Story Together

(Laugh With Us Blog) ~ Why not bring a little laughter and joy to your meal by inventing your own story as a family?
I:

Ice Tray Lunch

(Creative Playhouse) ~ Here's a special way to make mealtime fun for the picky eaters in your life!
I: Invite a Pal ~ My son just loves when I ask him to set an extra place at the table for one of his stuffed animals. He makes sure to take care of him during the entire meal, even feeding when he needs a little help!
J:

Journal for a Growing Chef

(Skill It) ~Find out how you can create a chef's journal for your little ones. These wonderful notebooks allow your child to explore and play before, during, and after dinner.
K: Kraft Paper Fun ~ Pretend that you are at a restaurant and add a layer of Kraft paper over your tablecloth. Grab a cup full of crayons, colored pencils, or markers and have the kids (and parents!) decorate their place setting while they're waiting for dinner to be served.
L: Lunch Dates with Daddy ~ Whether Daddy works close to home or you have to wait until the weekend to schedule a lunch date with him, be sure to make it happen! We get so excited when he calls to say that he'll be stopping by for lunch. Don't forget to add a special treat to the lunch table!
M:

Movie Nights

~ We have so much fun with movie nights! You can tailor them towards the season or holiday that you are celebrating at the time, or find snacks that coincide with the theme of the movie. Add a warm, fuzzy blanket to snuggle with on the couch and you're all set!
M:

Make Your Own...Night

~ Our family loves to set out ingredients and create our own special dish. We've tried "make your own' tacos, pizzas, sundaes, and sandwiches so far. This way, everyone gets exactly what they want on their plate and Mom gets a little help in the kitchen!
N: No distractions ~ turn off the T.V. (unless you're having a movie night), cell phones, video games, and any other electronic devices during dinner so that you can be present and relaxed during your meal.
O: Outdoor Picnics ~ Like I mentioned earlier, outdoor meals top our list! We've had small

snacktime picnics with a camping twist

,

picnics at our favorite locations

, and

al fresco dining

with a meal that we would have eaten indoors on a regular day. Here are a few more ideas to get you started at my Life's a Picnic board on Pinterest.
P:

Play with Your Food

(Creative with Kids) ~ Head to the kitchen to try some fun sensory play options for your preschoolers!
Q:

Questions at the Dinner Table

(B-InspiredMama @ The Educator's Spin On It) ~ Here you'll find 3 interesting ways to get your family chatting and giggling during dinner, while learning a little about each person!
R: Read a Story ~ As a bookworm myself, I love to find different ways to incorporate reading at mealtimes. I'm not suggesting that everyone keep their nose in a book while eating, but we like to take a book of poetry on a picnic, head outside with a snack and my toddler's favorite book, or have story time after everyone is done eating. We also have a small basket on the kitchen table. Since my son often takes the longest to eat, I'll grab a book and read it to him during breakfast or lunch while he's finishing up!
R:

Rhythms

(A Natural Nester) ~ Establishing an afternoon and dinnertime rhythm for the family to help everyone come together and slow down after a hectic workday.
S:

Snacks

(Mummyology) ~ 20 fun and simple snacks for the busy mama!
S: Setting the Table ~ Even though my son is only 2 years old, I often ask for his help setting the table. He loves putting out the place mats, napkins, and even the silverware for each person dining with us.
T: Tea Parties ~ These could be as simple as taking a small snack and drink out for a party like The Pleasantest Thing did for her

Gingernsnap and Apple Cider Party

or it could be a

more involved tea party

honoring the special women in your life for Mother's Day.
T: Traditions ~ Traditions can be started at any time and for any reason. Most of ours revolve around the holidays, like our Italian Style Christmas Eve dinner or the

Birthday Breakfasts

I prepare the entire week before my 2 year old's birthday. Others can be as simple as having each person at the table say something they're thankful for. I'm always on the look-out for starting some new ones that have anything to do with mealtimes!
U: Unique Foods from Around the World ~ One way to incorporate global awareness and diversity at home is to sample unique dishes from other countries.
V: Venues ~ An easy way to shake mealtime up is to simply eat in a new venue. During the holidays, my son loved eating under the Christmas tree and looking at the lights throughout the meal. Sometime's we'll sit at his plastic table and chairs in the living room during movie night or move our seats near the window so we can watch the rain and snow. Our last venture included a bag of sandwiches and snacks that we ate in the car while sitting at the park, watching the sun set. It was beautiful!
W: Walks after Dinner ~ Nothing settles your food and helps you wind down after a long day than taking a walk with the family. Drop by my

Within Walking Distance

Pinterest board to find over 30 ways to have fun during nature walks!

X: eXplain the Steps as you Cook ~ Even when Grady was just a baby, I always talked to him while I was preparing dinner or baking cookies. Although he had no idea what I was doing sometimes, he could hear the sound of my voice and I could awaken his senses at an early age by allowing him to touch and smell the foods as they were being prepared.
Y: Young Chefs ~ My toddler gets so excited when he is allowed to help Mom and Dad out in the kitchen. Whenever we need someone to stir, pour, or scoop an ingredient into the bowl, he's our guy! We also make a lot of simple recipes like this

Santa Snack Mix

(My Nearest and Dearest) or

Nilla-Nanna Sandwiches

that he can complete almost entirely on your own!
Z: Zip your lips and cover your eyes! Try a fun way to awaken the five senses at the dinner table. Cover up the prepared dishes and ask the kids to guess what they're having only using their sense of smell. Then, allow them to "unzip" their lips and take a small bite to help with the guessing game!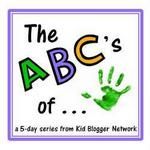 Here are some more tips and tricks from moms around the world sharing their ABC's of...
Being a Hands on Mom

from hands on : as we grow
Connecting with your Kids

from One Perfect Day
Family Field Trips with Kids

from Edventures with Kids
Fun Healthy Snacks for Kids

from Juggling with Kids
Kids Party Ideas

from Mama Pea Pod
Mama Survival

from The Dizzy Mom
Organized Home

from Mamas Like Me
Printables

from Mama Miss
Raising Boys

from Boy Mama Teacher Mama
Raising Eco-Friendly Kids

from Kitchen Counter Chronicles
Raising Girls

from Mess for Less
Raising a Healthy Kid

from Living Life Intentionally
Raising a Thinking Child

from The Outlaw Mom
Raising Toddlers

from Home Learning Journey
Raising a World Citizen

from All Done Monkey
Simply Celebrating Holidays as a Family

from Inspired by Family Magazine
Teaching Kids about Money

from Carrots are Orange
The Family Dinner Table

from Connecting Family & Seoul
Trying A New Experience with Your Children

from 52 Brand New
Values for Children

from True Aim Education
Thank you so much for stopping by! If you enjoyed this post, please join us on

Facebook.

You can even explore our boards on

Pinterest

if you are looking for more ways to foster family connections through play and inspiration.